Casement Windows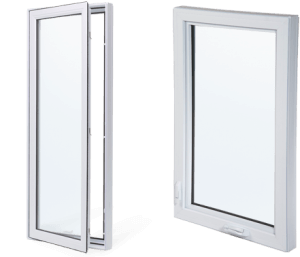 Attractive and Convenient Casement Windows
Did you know that casement windows can offer maximum ventilation to small or and second-story windows where it may not be possible to install a bay window? If your home has roofs with secondary peaks, or other places with small windows, casement models can add a bit of extra charm with very little effort. As an added bonus, you will find casement windows easy to clean and maintain.
Casement Windows Add Old World Charm
Consider a situation where your home has a distinctive European theme. While you may love the efficiency of double hung windows, they will never match the outer structure of some home designs. On the other hand, ornate casement windows will add the perfect touch without sacrificing the benefits that draw you to double hung windows.
No matter whether you choose casement windows with a bit of stained glass in them or irregular frame shapes, they are sure to be an appealing addition to your home.
Advantages of Modern Casement Windows
Contrary to popular belief, modern casement windows do not sacrifice energy saving features for aesthetic appeal.
You can easily find casement windows that include:
* Insulative frame technologies
* Special glass designed to prevent heat from escaping
* Special locks and closures that make your home safe and secure
* Durable frames that last for years without developing air leaks
During the process of choosing new windows for your home, energy efficiency and ease of maintenance are bound to be important considerations. While most people know about double hung windows in this area, casement windows also offer a number of benefits.
Needless to say, if you want to open a window and get air moving through 100% of the window space, few windows can match casement models. As an added bonus, you will also find that casement windows come in smaller sizes, meaning that even the smallest recessed window can become the source of fresh, cool air.